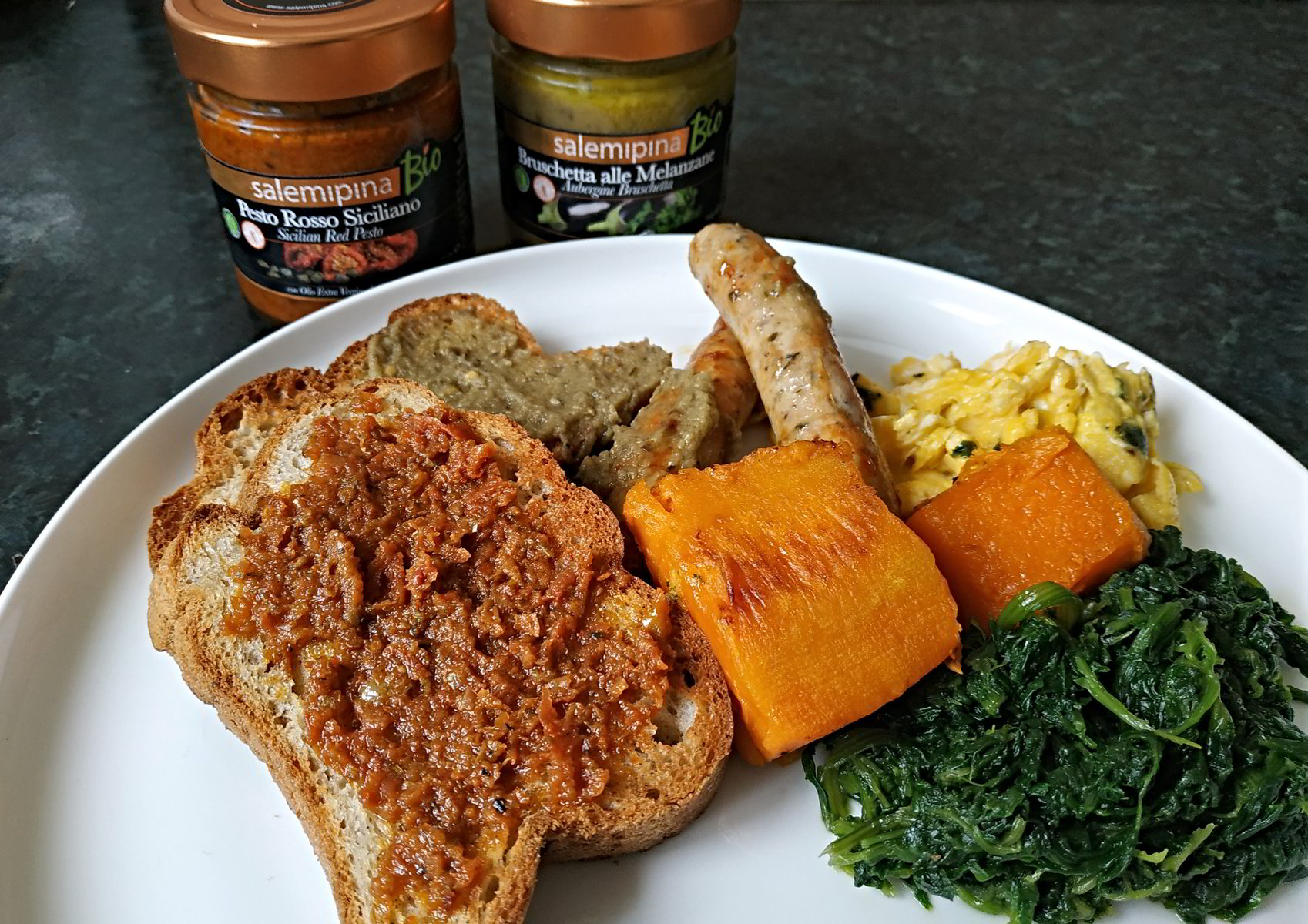 Today was one of those very rare days that I had time to cook myself a brunch, meal that I truly love! I am usually quite critic of the food I cook...being Italian and an engineer I am quite perfectionist, and I am never satisfied of my results in the kitchen :) But, today is a exception, because I am 100% proud of my home made brunch!! So proud that I don't only put a photos out there, but I will try to describe it! Big challenge ahead.
I used two of my pestos for this recipe, the sun-dried tomatoes pesto (alias Red Sicilian Pesto) and the Eggplant Pesto (or as I call it Eggplant Bruschetta Sauce, and they why should be clear looking at the photo).
I can officially announce that the Eggplant Pesto and the Chicken and Bacon sausages from L'Authentique were born to be together, they just didn't know it yet!
I also spread some of the eggplant pesto on the absolutely amazing mixed grains gluten free bread from the Gluten Free store.
I could see the red sicilian pesto as a perfect match for the pumpkin and egg, so I decided to spread it on the other slice of toasted bread to switch between the two different flavours. Totally happy with this choice :)
Eggs, spinach and baked pumpkin completed very nicely the dish so not to make it too dry, which is usually what I don't like when I go for a brunch outside.
The great thing of this recipe is that it's very easy to prepare. If I can do it, everyone can. Which brings me back to one of the reasons I started Original Sicily, which is giving the people the chance to experience flavors from a different culture (namely from Sicily) and to give the right tools to make good and healthy food at home, to share with your family and friends. I believe that to make a good meal we don't need to be great chefs (lucky who is!), but it is all about having a good combination of simple quality products. Our range of pesto and pasta sauces are simply perfect for this, the only limit is our creativity in the kitchen.
At the same time I want this to be accessible to everyone. In this recipe, I literally used one teaspoon of each of my sauces (so you can repeat this meal another dozen of times at least if you want), 1/3 pack of sausages from L'Authentique, 2 slices of bread, 1 egg, and a little bit of pumpkin and spinach. So I think that the I succeeded in this case :)
Onto the next one now! If you guys prepare some recipes with Original Sicily products, please do share them with us, we would really appreciated it!